The Institute of Driver Education & Research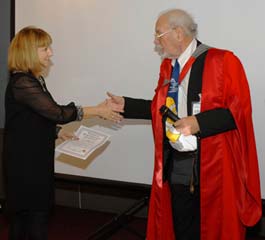 The Institute of DRIVER EDUCATION & RESEARCH was officially launched at the ADI-NJC's 31st ANNUAL TRAINING CONFERENCE, held on Sunday 2nd October, 2011, to coincide with the publication of Professor Peter Russell's SET OF FOUR new Instructor Training BOOKS: collectively entitled "TRAINING, COACHING, THINKING, DRIVING".
At the launch we enrolled 12 Members, Fellows and Graduates. Quite a number of eminent ADIs in the audience expressed their interest in joining. More mnrolments are anticipated soon.
Over 200 individual ADIs were present, although many of them were also acting as delegates, representing their own local Associations, and reporting back to them.
Each Delegate was given a copy of Book One (The Use & Abuse of Dual Controls) at the end of the programme, together with information how to get further free copies for their groups.